Let's develop your
customised

smart chargers
Engineers or technicians, the Selfenergy® team is first and foremost composed of electronics enthusiasts. With nearly 25 years of experience, the design office is an expert in energy conversion and has specialised in the custom design of battery chargers and converters.
Whether it is an adaptation of an existing product or the development of a specific battery charger to your specifications, Selfenergy® studies your request and defines the ideal professional charger adapted to both your needs and your technical constraints.
Customised support for your project
Adaptation of an existing product
Industrial production
Certification(s) in an external laboratory
In-house testing and validation
What are the smart chargers
developed by Selfenergy®?
Do you want to understand the differences between AC/DC, DC/DC and MPPT chargers?
Intelligent AC/DC chargers, DC/DC converters or MPPT solar chargers, Selfenergy®'s engineers are specialists in energy conversion and develop tailor-made solutions that will perfectly match the characteristics of your batteries.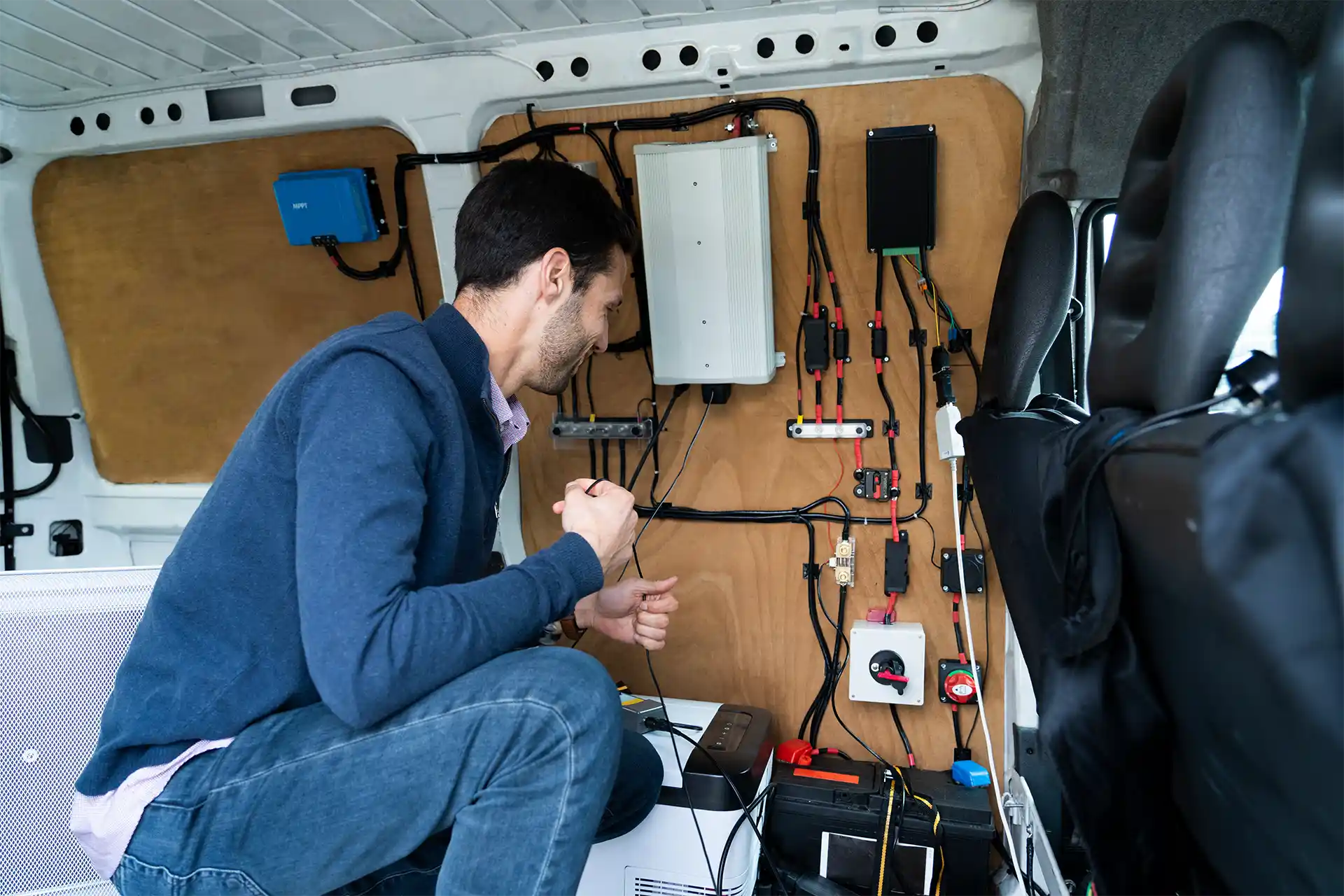 Our engineers guide you in the choice and possible configuration of a charger for your Lithium, Ni-MH, lead batteries or any other technology.
Based on your needs, our design office works with you to determine its characteristics and specificities: cooling, communication, resistance, sealing, etc.
From design to production, our experts are involved in the entire product value chain. With a technical and commercial team dedicated to you, Selfenergy® supports you at every stage of your project.
Our design office, our sales teams and our production centre are located in France on the sites of Mérignac and Pompignac, near Bordeaux (33).
The safest
smart chargers

on the market
Selfenergy® advocates performance for its battery chargers.
Always looking for new innovations, Selfenergy® carries out numerous tests and safety protocols on each of its equipment in order to obtain the corresponding certifications (CE marking, EMC, safety and environmental certifications, etc.).
All Selfenergy® brand products are guaranteed a commercial life of 10 years.
The "CE" mark
The "CE" mark is a mandatory certification for certain products sold in the European Union (EU), particularly for electronic devices. This certification represents the manufacturer's commitment to compliance with the European regulations regarding safety, health, and environmental protection and grants the right of free movement throughout the EU territory.
The "CE" mark implies compliance with several criteria such as electromagnetic compatibility, ensuring that the product operates correctly and without interference with other surrounding electronic devices.
Regulation CE No. 765-2008 of July 9, 2008 and No. 768-2008 of July 9, 2008 establish the general principles of the "CE" marking.
Depending on your needs, Selfenergy supports you in obtaining the "CE" marking for your custom-made chargers to ensure their reliability and safety.
The UKCA mark
Introduced in Great Britain from January 1st, 2021, following BREXIT, the UKCA (UK Conformity Assessed) marking is used to attest to a product's compliance with the standards and regulations of the British market (except for Northern Ireland, which is still governed by the "CE" and "UKNI" standards).
With an implementation date set for 2025, this certification, like the "CE" mark, ensures the safety and reliability of an electronic device purchased on the British market. "CE" marking vs "UKCA" mark.
The applicable British regulations stem from European legislation, so the technical requirements are very similar. The main difference currently lies in the requirement to entrust the conformity assessment to a recognized organization in the United Kingdom: the British Standards Institution (BSI)
The FCC Mark
The FCC (Federal Communications Commission) mark is a certification applied to devices circulating in the American market that ensures their validation by the Federal Communications Commission. This marking indicates that the device complies with the FCC regulations, particularly in terms of electromagnetic interference (EMI).
Materialized by Articles 47 CFR 2.803 and 47 CFR 2.1204, the markings require that most devices be authorized before they can be legally imported or sold in the United States.
Are you looking to market your solutions in the United States? Selfenergy develops your chargers that are adapted and FCC certified.
The "E" Mark.
The "E" Mark is a specific and mandatory European certification for motor vehicles with more or less than 2 wheels (cars, buses, trucks, motorcycles, etc.) as well as the electronic devices they carry (e.g., chargers). It is issued by the European Union (EU) member countries in accordance with the European Directive 2007/46/EC.
The "E" Mark attests that a vehicle or electronic device complies with the technical and safety standards required for its circulation and use within the EU. It covers various aspects such as environmental protection, compliance with electromagnetic compatibility (EMC), and road safety.
This certification provides assurance of the safety and quality of chargers developed by Selfenergy and adapted to motor vehicles.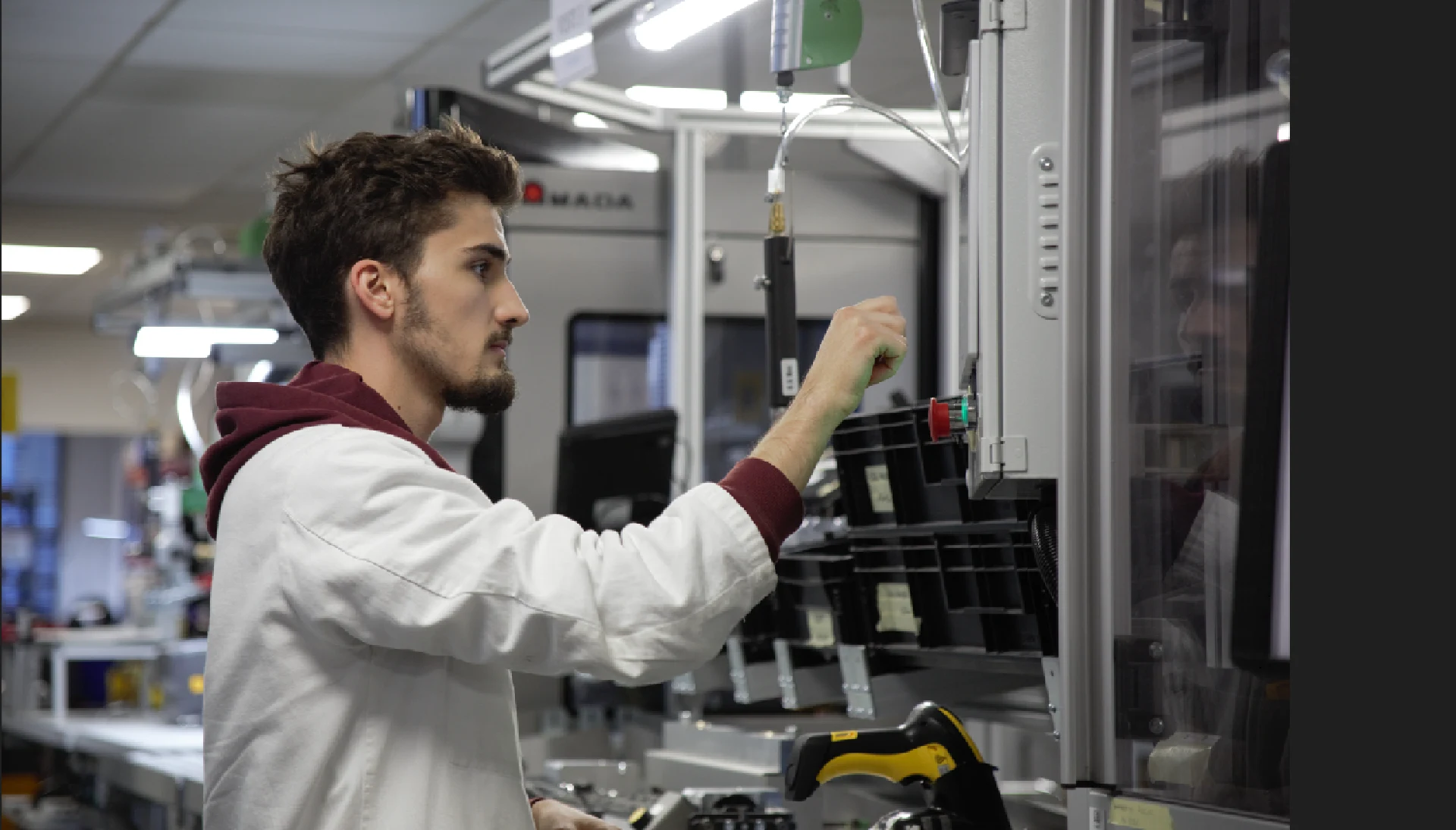 From design to

industrial production
Selfenergy intervenes from the custom design of your product to its production in industrial quantities.
Thus, thanks to our know-how, our human resources and our industrial tools, Selfenergy can meet all the needs of professionals.
With our two production sites in France, including a 3000m² factory dedicated to the energy transition, Selfenergy is able to produce from small to large series.